Explore the Collection
The Artist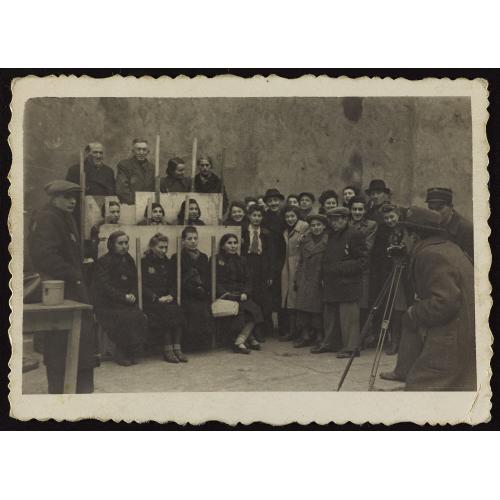 Henryk Ross and Photography as Resistance

"I buried my negatives in the ground in order that there should be some record of our tragedy... I was anticipating the total destruction of Polish Jewry. I wanted to leave a historical record of our martyrdom." -Henryk Ross

Henryk Rozencwaijg-Ross (1910-1991) was an official photographer for the ghetto's Department of Statistics from 1940 to 1944. He was responsible for producing identity card photos for every resident, as well as promotional images of the ghetto's administration and factories. Born in Warsaw, Ross worked in Lodz as a press and sports photographer before the war. His position in the ghetto afforded him access to photographic equipment and film which he used to secretly document the atrocities of Lodz. He risked his life to do so.
The Henryk Ross Lodz Ghetto Collection is a unique compilation of approximately 3,000 35 mm cellulose nitrate negatives, vintage prints, graphic art, posters, and personal ephemera. They are testimony of the potential for art to be both an act of resistance and remembrance.
The Chronicle
Photography as Witness

During the final liquidation of the Lodz Ghetto, Ross buried his negatives with other artifacts in the ground to preserve the photographic record he had created. Some inhabitants remained in the ghetto after the final liquidation to close down the factories, clean up and sort possessions. In January, 1945 as the Red Army approached Lodz the Germans ordered the remaining residents to dig mass graves. Instead, they went into hiding. There were 877 still hiding in the camp when the Red Army liberated Lodz on January 19, 1945. Henryk Ross, and his wife Stefania, were among them.
Following the liberation of the ghetto, Ross excavated the box of negatives and recovered this extraordinary archive. Although significant material was damaged, almost 3,000 negatives survived—the most comprehensive known collection of Holocaust ghetto photographs by a single Jewish photographer.
Ross's work was preserved through an act of will. They demonstrate photography's ability to bear witness to history and serve as a catalyst for change; to foster sympathy, awareness, and even critical commentary. Ross's photographs aim to capture the events he witnessed—though the stories they tell are still open to new understandings.
The Legacy
Photography as Memory

After the war, Ross distributed selected photographs from his postwar home in Israel: some of these were published in his book The Last Journey of the Jews of Lodz (1960s); others were submitted as evidence in the 1961 trial of Adolf Eichmann. However, many of Ross's images were never printed and few have been widely seen.
Ross captured searing images of the trauma of the Holocaust—families starving and painful deportations—but also consoling moments—children playing, people posing, dinner parties, and even celebration. Taken together, this collection reveals the everyday life and struggle of a community under incomprehensible circumstances. It is a complex portrait of life in the ghetto.
Build your collections
Organize your own online exhibitions from this collection, save them for future reference and share with others.
Registering for My Collections enables you to create online art exhibitions using works of art from the Lodz Ghetto Photographs of Henryk Ross collection. Create as many collections as you like and update them any time. We care about your privacy. We will never share your email address or personal information with anyone.
Search the collection
Search the entire collection.